Tin Man Award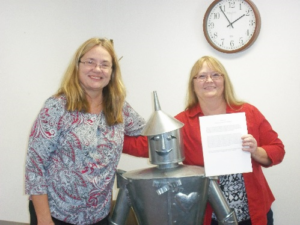 A Testimonial for an ABiLITY Good Deed Doer
ABiLITY has awesome caring staff and a great culture for going above and beyond for the individuals we serve.  What really makes this notable is that we see this with the staff that work direct support and interact daily with clients, but we also see this active compassion throughout the entire agency, from administrative staff, board members, volunteers, and custodial staff. This is what makes ABiLITY staff, programs and clients excel in the community.
Today we would like to recognize one of our own for her intervention to meet the need of an individual we serve. One of our clients living at Park Hill was so excited to get a job at the local Pasta House. He told others about it. He was ready to start, but needed to get black pants and a pair of black shoes before he could begin the job. He told one of the staff who emailed agency staff with the request. The same day Teresa Barylski received the email she bought this gentleman a pair of slacks and bought him a new pair of black shoes. She understood how excited he was to get a job and didn't want him to have to wait. The pants and shoes were delivered quickly so he could begin his job as soon as possible. Teresa did this quietly. When asked about it she was surprised others knew. She told the story with a smile as she recognized the impact this small gesture had on the young man's future.
We want to award Teresa with the Tin Man Award for her actions in making the world a better place. She has shown "heart" for the people ABiLITY serves. Thank you!
November 9, 2017