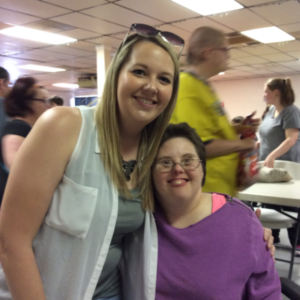 The goal of Support Services is to assist adults with developmental disabilities to live in the community in a manner which they choose. DSFC provides several options in the Support Services Program.
Residential living is provided in a 6 bed group home in Sullivan, MO
Individual Supported Living (ISL) provides extensive support for individuals in their own home or shared apartments. Assistance with budgeting, shopping, cooking, laundry etc. is provided in t heir own home. Community membership is supported by accessing activities and services in the individual's community.
Personal Assistance supports those who live with their families and on their own to increase people's ability to take care of themselves as well as help them interact in social activities in the community.
Temporary Care (up to 2 weeks) is provided at Sullivan House Group Home.
Subsidized housing is available at Park Hill Apartments in Union.
Transportation Services provides a means of access for individuals to go into their community who otherwise need no other supports.
Recreation offers activities for adults with developmental disabilities including monthly outings, social events, and athletic activities such as Special Olympics.