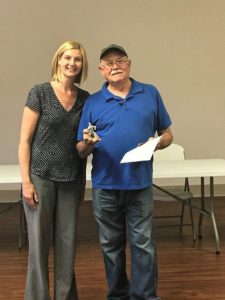 Tin Man Award
A Testimonial for a Developmental Services Good Deed Doer
Developmental Services of Franklin County Inc (DSFC) would like to acknowledge the devotion and kind heartedness of George Ash. George drives for the Transportation program and the clients look forward to seeing him every week. He makes them feel comfortable and their ride enjoyable each time. Recently, when there was a scheduling conflict, George took it upon himself to drive down to Cape Girardeau and volunteer his time to help coach one of our teams at the Regional Basketball Tournament for Special Olympics. Our athletes ran to him when they saw him come in the door, stating they were so glad that he made it. George volunteered 9 hours of his time including drive time just to be there for his athletes. George has made a positive impact in the lives of our athletes and they look forward to seeing his smiling face. George also went out of his way to come to some of the basketball practices to help coach when the supports were needed. This is why we feel that George Ash is worthy of the Tin Man Award.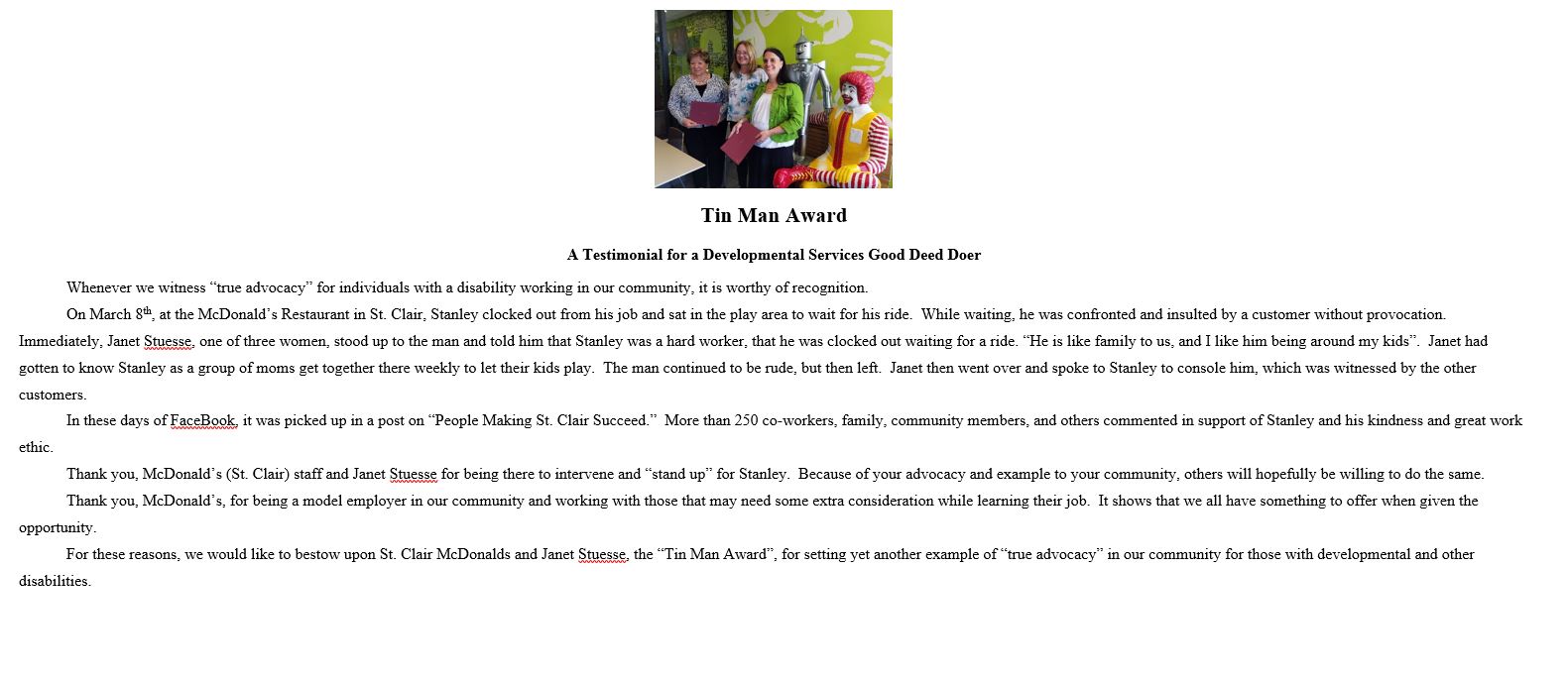 Developmental Services of Franklin County, Inc (DSFC) was originally formed under the Senate Bill 40 (SB40) legislation in Franklin County in 1987.  July 1, 2016 we transformed into a nonprofit charitable organization still providing services for persons with developmental disabilities.  A developmental disability is a condition such as Intellectual Disability, Cerebral Palsy, Epilepsy, Autism, or a similar condition diagnosed before the age of 22. We serve individuals from birth through adulthood beginning with an Early Intervention Program, Occupational Therapy, Physical Therapy, Speech and Language, Personal Assistance, Residential and Group Home Supports, Behavioral Supports, Applied Behavior Analysis, and a Day Program to help adults build independent living, social and communication skills. We want each person to build a meaningful life for themselves, making personal choices in a supportive community. We work closely with the Missouri Department of Mental Health, First Steps, Senate Bill 40 Board.  We also work hard to build collaboration with the community, community leaders, and the people we serve.
Did you know?
DSFC, Inc. Main Office
104 South Mckinley Avenue, Suite E Union, Missouri 63084
Phone: (636) 583-5801
Toll Free: 1-800-439-1750
Fax: (636) 583-5597
E-mail: dsfc@dsfranklin.org